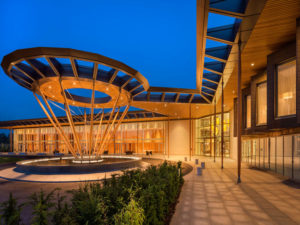 Leading Golf & Hospitality properties from across Spain, Portugal, Italy, Ireland and the UK, have been shortlisted ahead of 59club's Annual Service Excellence Awards Ceremony, which comes to Hilton St. Georges Park on the 2nd of March 2023.
59club's prestigious accolades, recognise those outstanding Venues, Teams and Individuals within the global golf & hospitality industry who consistently deliver outstanding customer experiences for their members and guests.
Qualification is unbiased; and determined by scores achieved through a detailed and objective mystery shopping program, which measures the experience afforded to members, visitors and prospective members spanning Golf, Leisure, Spa and F&B operations.
A number of the finest Golf Resorts & Member Clubs in the UK & Europe receive multiple nominations this year; and leading the stakes is four-time Ryder Cup host; The Belfry with nominations realized across seven award categories.
Camiral Golf & Wellness – voted the number #1 golf resort in Spain, join 2010 Ryder Cup host; Celtic Manor Resort, Delta Hotels – Forest of Arden and The Grove as they each receive five nominations across multiple service excellence award categories.
Hot on their heels with four nominations are; Long Ashton and The Vale, both regulars in the 59club winners arena, and Quinta do Lago – also no stranger to the 59club spotlight having impressively scooped four of the main award titles in the ceremony just 12 months ago. They are all followed closely by Branston Golf and Country Club who uphold three nominations.
A newcomer to the 59club community having started their journey with the customer service specialists back in 2022; is Finca Cortesin, host of the 2023 Solheim Cup who find themselves in the running for two accolades.
With Belvoir Park, Bristol Golf Club, Clevedon, Foxhills and Ryder Cup giant Gleneagles – who famously claimed 59club's highest accolade of Ultimate Resort in 2022 – also in contention for two accolades.
Gullane, Harpenden, JCB, Panmure, The Mere and Royal Park I Roveri – another previous winner having seen Riccardo Russo crowned European Greenkeeper of the Year – also feature double nominations.
Others hoping to receive a prestigious Service Excellence Award include a selection of 2022's 59club Gold Flag bearing properties; Alcanada, Son Muntaner, Hanbury Manor and Mount Juliet Estate, who each feature in the Golf Retail, Greenkeeper, Golf Membership Sales and Golf Manager of the year nominations respectively.
Finally, the nominations listing see's Barnham Broom, Carton House, Delta Hotels Worsley Park Country Club, Dunston Hall, Eden Hall, Fornby Hall, Goring & Streatley, Hoar Cross Hall, North Foreland, Oulton Hall, Rockliffe Hall, Slieve Russell, St Mellion, The Astbury, The Kendleshire, West Herts, Woodsome Hall and Wychwood Park all in contention for a service excellence award.
Looking ahead to the Service Excellence Awards, and the first for Lee Mathew Waggott, 59club Europe South's new General Manager said: "We are extremely excited that this year's Service Excellence Awards are now just around the corner. This day allows us to celebrate and recognize venues and teams delivering great experiences from across the continent. Additionally, with colleagues attending from properties across Europe, it gives property leaders a unique networking opportunity."
59CLUB EUROPE SOUTH 'SERVICE EXCELLENCE' AWARD NOMINATIONS (in alphabetical order):
Food & Beverage Manager of the Year:
Marta Castells (Camiral Golf & Wellness); Attilio Girello (Royal Park Roveri); David Maderia (Quinta do Lago)
Golf Retail Manager of the Year:
Teresa Moll (Alcanda); Diana Torres (Camiral Golf & Wellness); Fabio Vido (Royal Park Roveri)
Greenkeeper of the Year:
Alfredo Alvarez (Camiral Golf & Wellness); Scott McLean (Qunita do Lago); Paco Gavira (Son Muntaner);
Golf Operations Team of the Year:
Camiral Golf & Wellness; Finca Cortesin; Quinta do Lago
Golf Manager of the Year:
David Ashington (Camiral Golf & Wellness); Rocio Sanchez (Finca Cortesin); Brian Evans (Quinta do Lago)