This multi-functioning App stores live performance data submitted by the management team, employees, and members; allowing the club to make informed decisions to elevate satisfaction levels, retention rates and profits.
Clubs can build a bespoke user experience; all feedback is received privately by the relevant individual or club department, with supplementary comments, ratings & images providing full clarity and analysis over a particular issue or task.
The App will track trends, monitor patterns of performance, whilst generating statistics for periodic reviews.
MyTell for Managers
The management team log observations during their daily departmental evaluations, with the ability to share live performance reviews with the team, set targets, track accountability, and monitor progress over time.
The App stores club operations & facility management data across multiple measurable data points stored within the headline areas below:
Golf Course: Presentation, Maintenance & Amenities
Practice Area: Playing Surfaces & Facilities
Retail Management
Front of House
Employees
MyTell for Members
Club members, the board, committee or engineered focus groups can privately communicate their experiences of club life, direct with club management.
The app allows the member (teller) to post feedback on numerous activities within the following categories across Golf, Health & Recreation, whilst also capturing a net promoter satisfaction score:
Community & Club Culture
Club Facilities
Member Services
Food & Beverage
People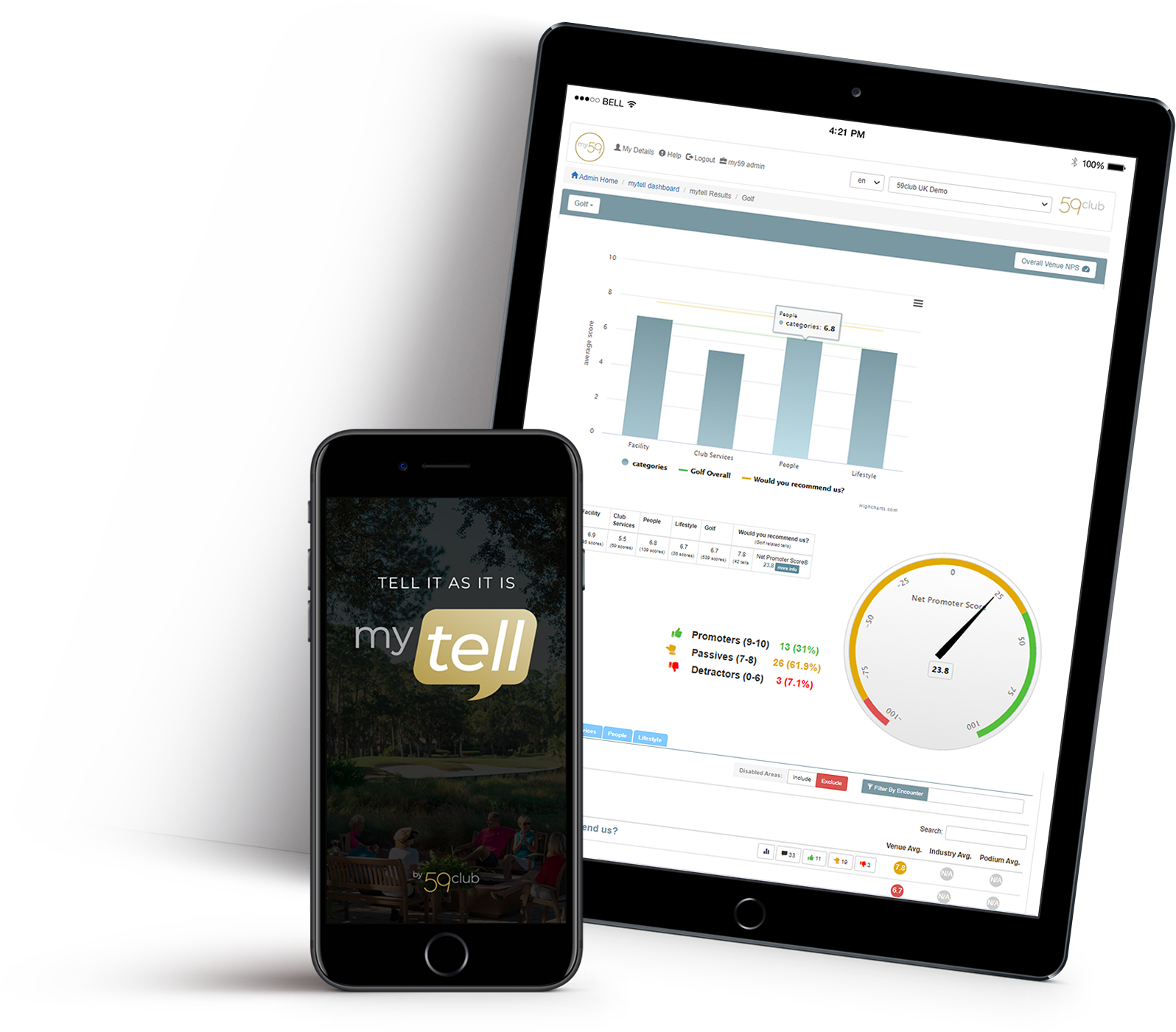 MyTell for Employees
(Coming in 2022)
Employees record their physical and mental wellbeing whilst at work, including their perceptions of the relationships that have formed with their peers and superiors, in preparation for periodic appraisals, whilst supporting career progression.
Employee feedback is filtered across the following categories:
Mental Wellbeing
Pressure
Resilience
Change
Depression & Anxiety
Addiction
Mindfulness
Physical Wellbeing
Heart health
Food & Nutrition
Alcohol
Exercise
Lifestyle
Sleep
Relationships
Travel
360 Appraisal App
(Coming in 2022)
Future developments will see club employees benefit further, with a dedicated App enabling the management team to deliver 360 employee appraisals.
As part of the appraisal, the employee will be invited to complete a series of questions which summarises their performance within the organisation.
The App will also pull in feedback supplied by the individuals peers and their superior, all with the purpose of defining clear pathways for future progression.