59CLUB SERVICE EXCELLENCE AWARDS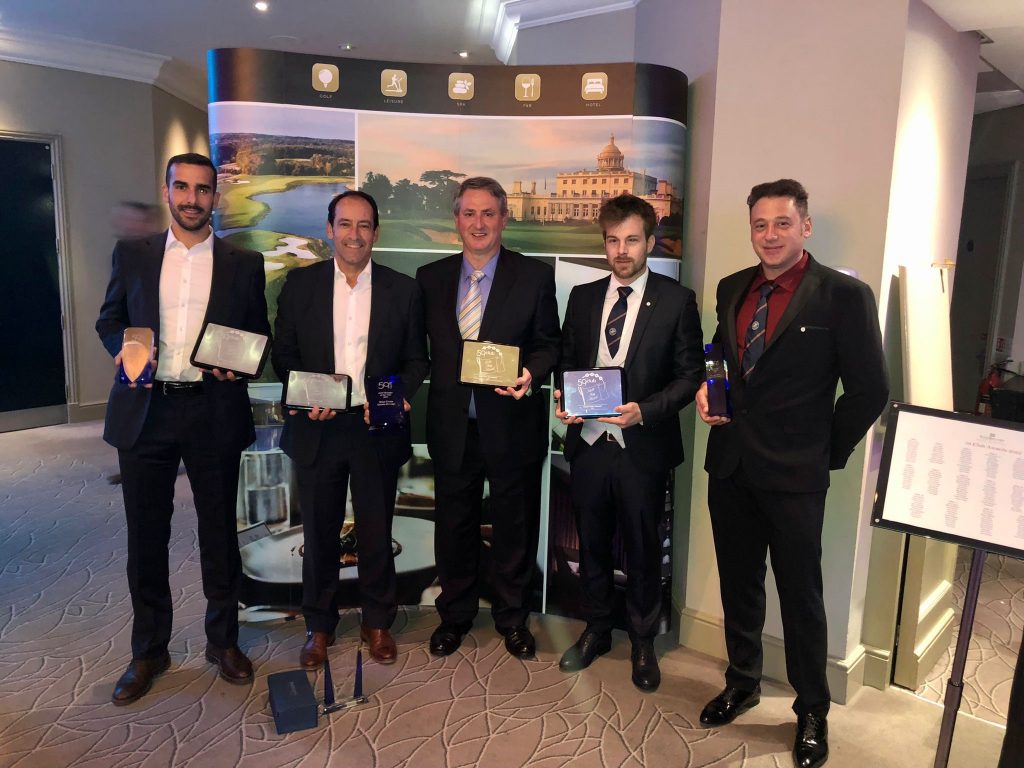 A welcome return to a "Live Event", saw the very best Venues, Teams and Individuals from across the UK, Ireland and Europe South assemble at The Belfry Hotel and Resort on March 3rd 2022, ahead of 59club's annual Service Excellence Awards.
Festivities began with a full day's education provided by Gregg Patterson of Tribal Magic, and Lora Cavan, having flown in from the US and Canada respectively. And as night fell, aspirations of being recognised with a 59club Service Excellence Award grew, as the curtains opened on the ceremony that has long been regarded as the 'Oscars' of the golf & hospitality industries, since the 59club's honours list began some 12 years ago.
The 2-day event, a pinnacle fixture in the golf business realms recognises the finest customer service providers for having achieved the highest standards of excellence in 2021. 59club's illustrious accolades are determined by scores collected from their impartial mystery shopping audits, which evaluate the experience afforded to visiting golfers and prospective members, in accordance with 59club's objective benchmarking criteria.
On the night, 59club UK and Europe South presented awards across 29 categories, recognising 'service excellence' across all areas of the businesses – sales, service, operations, retail, spa, golf course, food & beverage, and management. With 59club continuing to reflect the very best performances, regardless of a venue's size, scale, or profile.
The Awards was a great showcase for Quinta do Lago, after they claimed 3 of the 5 Awards presented for the Europe South region, including European Golf Operations Team of the Year. Luis Filipe, Corporate & Leisure Relationships Manager at Quinta do Lago, commented:
"Quinta do Lago has a long-term commitment to delivering the best possible customer experience across all our golf and lifestyle facilities to our residents, members and guests, and receiving this award is deserved recognition for the hard work our all staff, especially in the difficult circumstances of the last two years. This year, Quinta do Lago marks its 50th anniversary and its semi-centennial year of unique history, so we are very proud to see how Quinta do Lago has become a truly timeless destination in which residents and guests can enjoy a clean and secure environment."
For two of our most recent client venues there were also celebrations on the night; Infinitum Golf saw Vicky Farriol recognised as European Food & Beverage Manager of the Year, while Riccardo Russo of Royal Park I Roveri was present to receive his European Greenkeeper of the Year award.
Of this year's awards, James Beesley, Regional Director of 59club Europe South, commented;
"It was an honour to recognise and celebrate our leading service providers in person this year. Even more so to share the stage with our sister company, 59club UK, who laid the foundations for this annual celebration. It's been an incredible pleasure to see our regional venues, who came on board in the last 18 months, presented with their awards amongst some of the UK's golf legacy venues.
59club Europe South and our client venues share our passion for delivering the very best customer experiences, and this evening's celebrations have certainly done all the nominees and winners justice!"
Will Hewitt, General Manager of 59club UK, commented:
"Golf has been incredibly fortunate to benefit from a significant surge in demand, and it is extremely encouraging that more venues than ever before are choosing to work with 59club to focus on their service offering and sales levels whilst working to engage and keep this new audience. 59club's focus will remain the provision of objective and accurate performance data, providing greater market insights and a supportive network of likeminded professionals which will further aide performance enhancement".
Celebrations continued into the night, as 59club's industry benchmark of excellence, its Gold, Silver and Bronze Flag Designations, were announced. These highly prized accolades recognise member clubs and resorts that provide excellent facilities for golfers to enjoy, as well as having achieved the required standard of customer service throughout 2021.
This year, 59club Europe South presented 2 "Gold Flags". The deserving winners were Club de Golf Alcanada and Son Muntaner Golf, 'flying the flag' for the island of Mallorca.
3 "Silver Flags" went to Quinta do Lago (IT), Infinitum Golf (ES), Royal Park I Roveri (member club, IT), worthy representatives from across all 3 active countries under the Europe South regional division.
59club 'Service Excellence' Award Winners 2021/22:
Gold Flag Designations: Club de Golf Alcanada & Son Muntaner (both Mallorca, ES)
Silver Flag Designations: Quinta do Lago (PT), Infinitum Golf (ES) & Royal Park I Roveri – Member's Club (IT)
European Golf Manager of the Year: Brian Evans (Quinta do Lago, PT)
European Greenkeeper of the Year: Riccardo Russo (Royal Park I Roveri, IT)
European Food and Beverage Manager of the Year: Vicky Farriol (Infinitum Golf, ES)
European Golf Retail Manager of the Year: Carla Bica (Quinta do Lago, PT)
European Golf Operations Team of the Year: Quinta do Lago (PT)