Royal Park I Roveri, located in the stunning setting of the La Mandria Natural Park at the foot of the Alps, is now in its third year with 59club and it also just happens to be one of the most prestigious clubs in Italy.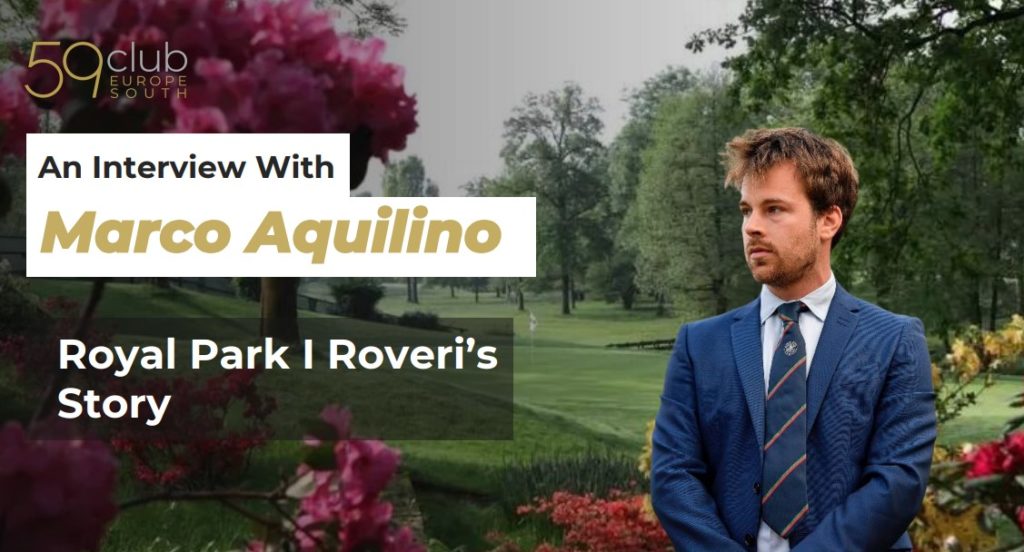 "59club's objective evaluations and strategic support empowered us to continuously improve our performance, striving to be among the best in the industry"

We caught up with General Manager, Marco Aquilino, as he highlighted the journey he and the team have been on with 59club, the benefits they have realised and his future plans for the team and the club.
"Throughout the years, Royal Park I Roveri has been on a transformative journey, continuously striving to provide exceptional customer experiences and elevate service quality. Our partnership with 59club has played a crucial role in this pursuit, revolutionising our approach and propelling us towards new heights.

And like so many Managers that find themselves engaging with 59club, Marco had the same common law of attraction to 59club, and went on to say;

"It all began with a realization – the danger of becoming complacent when working in the same environment day after day. We needed an objective lens to evaluate our operations and identify areas for improvement, this is where 59club came in to help with our pursuit of excellence. Their evaluations provided us with a fresh perspective, uncovering blind spots and bringing awareness to our starting point.

"Our vision at Royal Park I Roveri has always been to create an unforgettable experience for our members and visitors. We wanted our club to be more than just a place to play golf; we aimed to cultivate an environment where everyone felt genuinely valued, even if they were just visiting for a day. This vision required exceptional service that went beyond delivering a good product. Partnering with 59club became instrumental in turning this vision into a reality."

Marco explains that certain elements of the club's member & guest experience were prioritised, and he details how 59club supported the team to succeed in those areas …

"Through our collaboration, we focused on key touchpoints such as the welcome on arrival, booking confirmation, and guest management on the course. 59club's insights, coupled with their online educational tools, allowed us to enhance the training of our staff, and elevate their attention to these critical areas. 59club's objective evaluations and strategic support empowered us to continuously improve
our performance, striving to be among the best in the industry.

"Our goal is to provide a customer experience which is recognised alongside the best international venues, and with data collected through 59club platforms, this becomes our catalyst for shaping operations and driving further success. Analysing this data enables us to refine our offerings based on the needs of our customers, optimising our investments to deliver exceptional experiences."

Looking ahead, Marco sees the insights and best practices provided by 59club contributing to the growth and development of golf clubs in Italy…

"In Italy, unfortunately, there are not many of us who are able to travel around the world to experience and explore new ideas, not due to lack of will but for lack of time. However, 59club's international expertise bridged this gap, bringing fresh insights and igniting innovation. Their evaluations, explanations, and dedicated support serve as a foundation for golf clubs in Italy to grow and excel, even without
extensive travel experiences."

Most recently the team at Royal Park I Roveri enjoyed multiple successes at 59club's Regional 'Service Excellence Awards'. The club displayed some of the highest standards of customer excellence achieved within their impartial mystery shopping audits, spanning Spain, Portugal, Greece & Italy.

"Our dedication to excellence was recognised when we received our Silver Flag Designation, and Retail Manager of the Year Award at this years' ceremony. These accolades served as validation for our hard work, and affirmed our commitment to continuous improvement.

"The recognition we received bolstered our team's morale, inspiring us to aim higher and exceed our achievements. Our sights are now firmly set on obtaining Gold Flag Status next year."

Marco had this advice for other clubs currently considering partnering with 59club;
"To golf clubs considering partnering with 59club, my advice is simple: seize the opportunity. Regardless of budget constraints, 59club offers a bespoke approach that caters to different needs. Even with minimal audits and staff training, immediate results can be observed. Embracing this partnership will undoubtedly enhance customer service, elevate staff training, drive overall performance and financial gain. To all clubs in Italy, it's a step towards growth and positioning your club on an international path, ultimately contributing to the reputation of Italy as a premier golf destination".